News Over Audio
News Over Audio (Noa) is an audio journalism company with the goal of providing multiple perspectives on trending news topics through a curation process where Noa's editors hand-pick articles from the world's leading publications, including The Washington Post, The New York Times, The Economist, Bloomberg and others. Noa's team of narrators then record the articles, so subscribers can listen to them word-for-word on the Noa app anytime, anywhere.
I served as an editorial intern at News Over Audio for two summers. During the summer of 2021, I worked remotely for the company from the Outer Banks, North Carolina. Then, I moved to Dublin to work at the company in-person in June 2022 after studying abroad for a year at the University of Oxford.
My first summer was all about learning the ropes of the company, and my tasks included listening to Series which are Noa's curated article packages, editing audio recordings, and preparing Series for publication in Noa's Content Management System (CMS).
Working in person in Dublin, I had the opportunity to find articles for publication on the app, write editorial content, and create two of my own Series.
The Dark Money Controlling American Elections
The $14.4 billion spent on American elections in 2020, including the presidential election, broke new records, more than doubling the previous record set during the 2016 cycle.
The amount spent on US elections in 2020 was vastly more than what is spent in other countries. It was so much, in fact, that the outlay was larger than the GDP of almost 70 countries. 
It can be hard to imagine how so much could be spent, until you start to think about how US elections are fought. There are armies of consultants, strategists and publicists paid to run campaigns, the money is needed to buy airtime on TV and radio, it is used to pay for ads on social media. And then there are all the logistical necessities – airplanes, cars, security, hotels, convention centres – which must be paid for. It adds up. 
But behind all this, there is an important question: What do the people and organisations who put up the billions to help politicians win elections want in return?

In this Series we examine this issue. We'll start by exploring how US laws have failed to combat corruption, including a crucial 2010 Supreme Court case that gave more power to corporations. Then we'll examine the 'dark money' that helped the Democratic Party defeat Donald Trump in 2020. We'll wrap it up by hearing why, in 2022, Democrats are spending their dollars on Republican candidates. 
We've all heard the saying "money talks", but should it also win elections? Listen to this Series to learn more.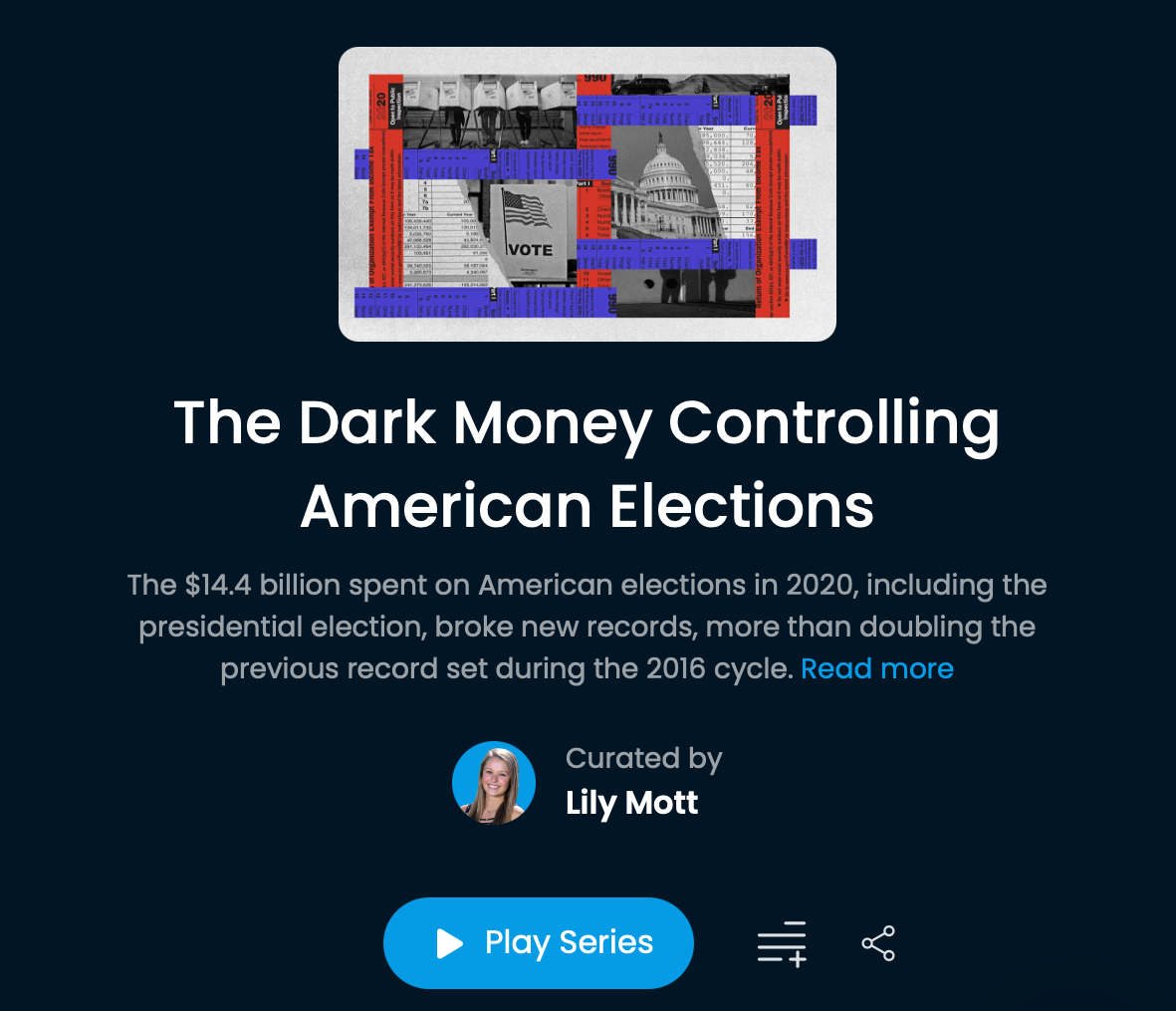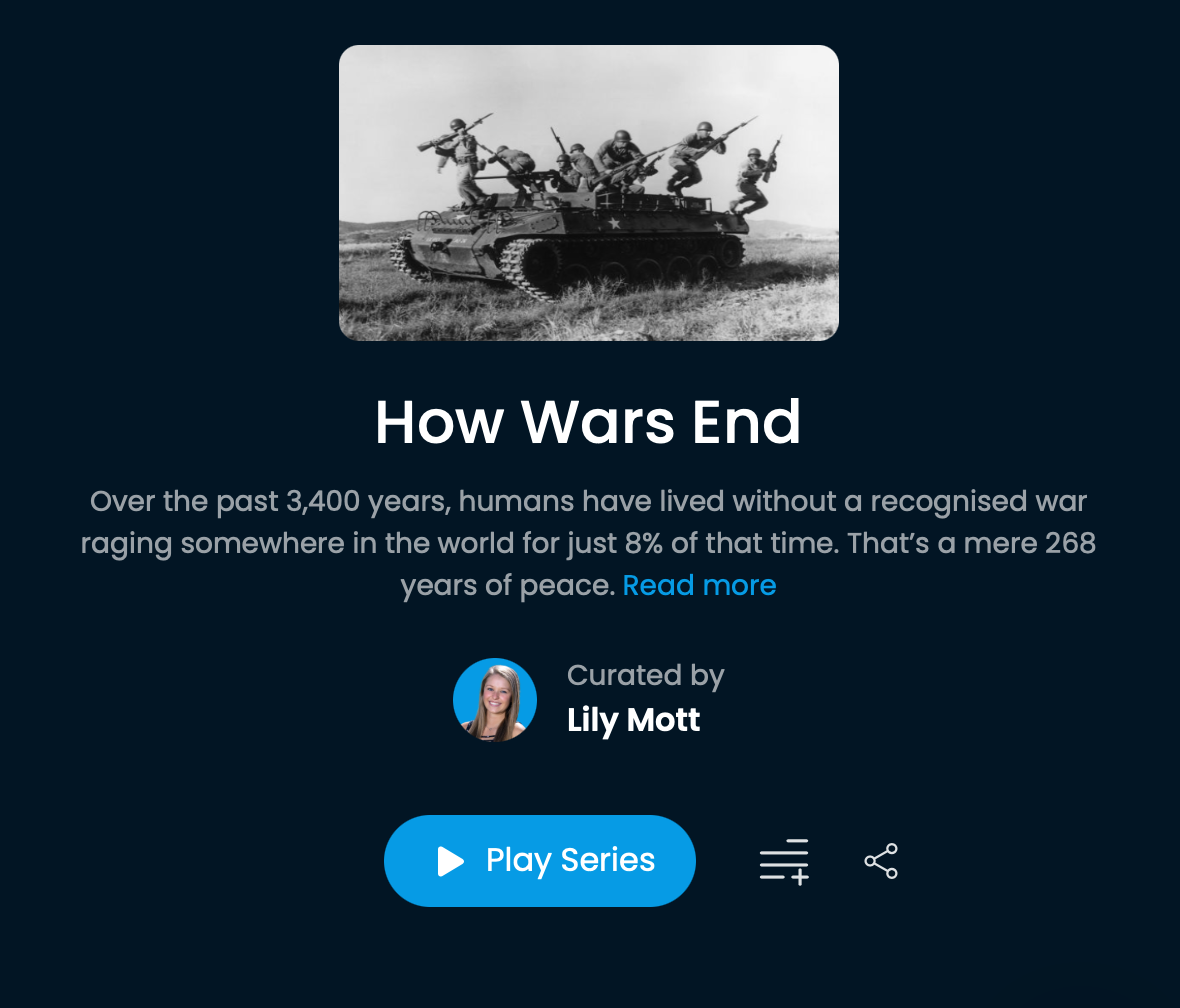 How Wars End
Europe, which has been the scene for some of the bloodiest wars in history, had enjoyed relative peace for more than 25 years, since the end of the Bosnian war. Then, in February 2022, that peace was shattered as Russian tanks rolled into Ukraine. 
Russian military officials promised Putin a quick victory, but Ukraine resistance prevented that. Just over six months in to the conflict, tens of thousands of civilians and soldiers are dead, Ukraine's economy is shattered, and the war has sent food and energy prices soaring around the world. 
Many wonder; how will the war end? 
Looking back at more than 3,000 years of warfare, there have generally been only three types of outcome. In this Series, we'll explore what these are. 
We'll start by examining the possible outcomes for the Ukraine war, before then looking back at the Korean War to understand what lessons could be learned from that. To wrap up the Series, we'll examine new technologies that may allow us to predict the outcome of wars before they even start. 
So, how do wars end, and is it becoming possible to predict those endings? Listen to this Series to find out.